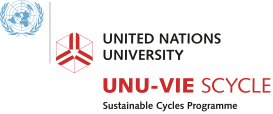 Our Mission
The International Telecommunication Union (ITU), in cooperation with the Sustainable Cycles (SCYCLE) Programme co-hosted at the United Nations University (UNU) and United Nations Institute for Training and Research (UNITAR), and the Solid Waste Association (ISWA), joined forces to create the Global e-waste Statistics Partnership (GESP). Its main objectives are to improve and collect worldwide e-waste statistics in an internationally standardised way. The Partnership will also raise visibility on the importance of tracking e-waste, and deliver capacity building workshops. In July 2020, the GESP published the Global E-waste Monitor 2020, now it its third edition, which shows continued global growth in the generation of e-waste.
Upcoming events
All Events


News

EU-28, Switzerland, Norway and Iceland collect and report 55% of WEEE
UNITAR/United Nations University present an in-depth review on the WEEE Collection Rates in the EU-28, Switzerland, Norway and Iceland, which shows that the implementation mechanisms of WEEE leg...

The Dutch WEEE Flows 2020: What happened between 2010 and 2018?
"The Dutch WEEE Flows 2020: What happened between 2010 and 2018?" quantifies the 2018 Dutch WEEE Flows in 2018 manner comparable to the Read More