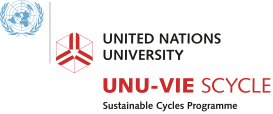 What is E-waste?
Electronic waste, or e-waste, refers to all items of electrical and electronic equipment (EEE) and its parts that have been discarded by its owner as waste without the intent of re-use. E-waste is also referred to as WEEE (Waste Electrical and Electronic Equipment), electronic waste or e-scrap in different regions and under different circumstances in the world. It includes a wide range of products – almost any household or business item with circuitry or electrical components with power or battery supply. E-waste is one of the fastest growing and most complex waste streams in the world, affecting both human health and the environment, and proliferating a loss of valuable raw materials. Read more.
Importance of data & statistics
• Improves comparability between countries. • Serves as a basis for e-waste statistics, e-waste indicators and contribute to the SDGs. • Allows monitoring of the quantities and flows of e-waste which is essential for evaluating developments over time, and to set and assess targets towards a sustainable society and circular economy, and to identify best practices for policy.