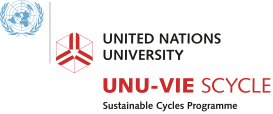 Our Mission
The International Telecommunication Union (ITU), in cooperation with the Sustainable Cycles (SCYCLE) Programme co-hosted at the United Nations University (UNU) and United Nations Institute for Training and Research (UNITAR), and the Solid Waste Association (ISWA), joined forces to create the Global e-waste Statistics Partnership (GESP). Its main objectives are to improve and collect worldwide e-waste statistics in an internationally standardised way. The Partnership will also raise visibility on the importance of tracking e-waste, and deliver capacity building workshops. In July 2020, the GESP published the Global E-waste Monitor 2020, now it its third edition, which shows continued global growth in the generation of e-waste.
Upcoming events
All Events


News

The Dutch WEEE Flows 2020: What happened between 2010 and 2018?
"The Dutch WEEE Flows 2020: What happened between 2010 and 2018?" quantifies the 2018 Dutch WEEE Flows in 2018 manner comparable to the Read More


Monitoring Exports of used Electrical and Electronic Equipment (EEE) from the Netherlands
An integrated method for monitoring exports for reuse
Today (UNU/UNITAR)  SCYCLE published a report summarizing a new integrated method for monitoring the export of used electric...