Global E-Waste Monitor 2017

The Global E-waste Monitor 2017 provides the most comprehensive overview of global e-waste statistics and an unprecedented level of detail, including an overview of the magnitude of the e-waste problem in different regions. The report includes up-to-date information on the amounts of e-waste generated and recycled, makes predictions until 2021, and provides information on the progress made in terms of e-waste legislation.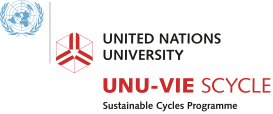 Our Mission
The International Telecommunication Union (ITU), in cooperation with the United Nations University (UNU) acting through its Vice Rectorate in Europe hosted Sustainable Cycles (SCYCLE) Programme and the Solid Waste Association (ISWA), have joined forces to form the Global e-waste Statistics Partnership. Its main objectives are to improve and collect worldwide e-waste statistics. The Partnership will also raise visibility on the importance of tracking e-waste, and deliver capacity building workshops. In December 2017, the Partnership published the Global E-waste Monitor 2017.
Upcoming events
All Events


News

E-waste Rises 8% by Weight in 2 Years, as Incomes Rise, Prices Fall
The amount of e-waste — discarded products with a battery or plug — is rising. This is one of the findings of a new global report launched today.E-waste encompasses everything from end-of-life r...

Global E-waste Monitor wins European Advanced SDG Award 2018
For its excellence in the implementation of the UN Sustainable Development Goals (SDGs), the NEW WAYS Center for Sustainable Development Vienna/Austria awarded the Global E-waste Monitor the Eur...